Study Abroad / Saint Mary's Programs
London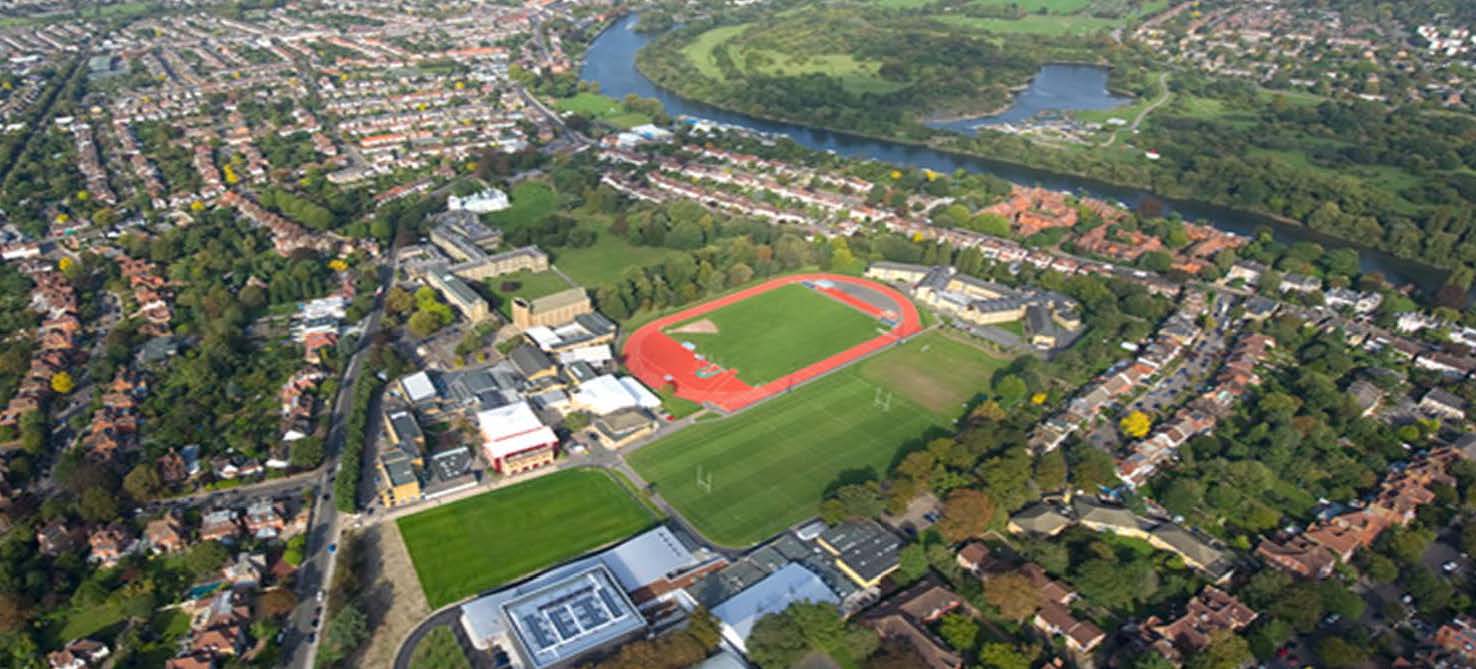 The Stefannié Valéncia Kierlin Program in London
Spend a fall semester studying in England at SMU's newest study abroad partner, St. Mary's University Twickenham London
St. Mary's University Twickenham London is the UK's largest and leading Catholic university, ranked in the top 5 in the UK for student experience and top 10 for teaching quality.  The scenic campus is located in South West London, 30 minutes from the center of the city.  With a student body of approximately 5,500, over 90 nationalities are represented on campus. This program is open to SMU undergraduate students of all majors.
Take a Virtual Tour of the St. Mary's University Twickenham London Campus.
Eligibility/Application Procedures
Follow these steps to determine your eligibility.
Step 1 – Are you eligible?
All students who wish to participate in the Stefannié Valéncia Kierlin Program in London at St. Mary's University Twickenham London must have a GPA of 2.5 or higher and at a minimum Sophomore status. Eligibility will also be based on recommendations & record of behavior at SMU. Failure to complete and submit all application materials by application deadline will exclude the student from eligibility.
Step 2 – For participation in the 2023 Fall Semester, complete Saint Mary's University of MN application materials by April 3, 2023.
Acceptance is contingent on a thorough review of the student's application by Saint Mary's University of MN and St. Mary's Twickenham London.
**The application includes a $500 non-refundable program deposit. The deposit will be applied to students' tuition accounts after the program begins. Method of payment can be:
a. cash
b. personal check payable to Saint Mary's University
c. money order or cashier's check payable to Saint Mary's University
d. bill pay from your bank sent to Saint Mary's University-be sure to specify it is to be used for a London Program Deposit
e. If you have a credit on your tuition account you can ask the Business Office to make a transfer to the London Program Deposit Holding Account; the Study Abroad office will be notified that a payment has been made.
London Application 2023– Print out single sided. Paper application also available in the Study Abroad Office, the Heights. 
Saint Mary's University Application Forms (fillable)
Step 3 – Receive an email regarding the outcome of your SMU application to the Stefannié Valéncia Kierlin Program in London. Upon SMU acceptance email, a student will:
receive a link to St. Mary's University Twickenham's application. After completion, instructions for submitting the accommodation application and course (module) registration will be provided;
attend SMU orientation sessions;
submit a copy of the first page of passport to Study Abroad Office;
submit a copy of flight itinerary to the Study Abroad Office.
Modules/Classes
In the U.K., classes are typically referred to as modules, while the words subject and course are usually used to indicate a major or degree.
A range of modules are open to Study Abroad students within Education, Humanities, Social Sciences, Theology, Sports, Health and Applied Science. Each module is worth 20 U.K. credits, and students usually choose 3-4 modules per semester. 3 successfully completed Twickenham modules (non-theatre) will transfer back to SMU as 15 credits; 4 successfully completed Twickenham modules (non-theatre) will transfer back as 18 credits. 
Registering for classes
After you have been accepted to study at St Mary's Twickenham, you will receive a link inviting you to apply for modules. This will be sent out within two weeks after the St Mary's Twickenham application deadline date, so please do not worry if you have not received it before then.
You will be asked to nominate eight choices in order of preference in case there are timetable clashes. St Mary's will allocate modules about six weeks before the start of the semester.
Levels
Twickenham modules will be designated as Level 4, Level 5 or Level 6.  Keep in mind that U.K. undergraduate degrees are typically 3-year programs and students take modules only in their major (in other words, a 3-year series of modules build upon each other throughout the 3-year path to graduation:
Level 4 =  first year modules; in the fall semester, these would be equivalent to intro/100-level classes; in the spring semester, they would be comparable to 100/200-level classes; students should be able to take these without much prior knowledge.
Level 5 = second year modules; in the fall semester, these modules are approximately equivalent to 300-level classes; it's helpful if students have some background knowledge but may be able to succeed without it (varies by subject).
Level 6 = final year modules; these are approximately equivalent to 400/upper-level classes; they generally require students have some knowledge of the topic.
Study Abroad & Internship
As part of a Workplace Learning module, students work 60-80 hours (approximately 1 day a week) at an internship within their field of interest while attending weekly classroom sessions designed to support learning in the workplace, understanding of chosen field, and individual professional development.  Study abroad students can choose among 4 internship modules: business, not-for-profit, sports, and education.
***Study Abroad + Internship requires students to apply for and receive a special visa. The cost for a U.K. Student Route Visa is approximately £348. After registration for an Internship Module, students will be given complete instructions for obtaining the required Visa.  Students will not have to pay the NHS surcharge as they will be in the country less than 6 months.  In addition, this opportunity requires completion of a special application with an early deadline.
Theatre Program Modules/Classes
Theatre majors will register for 3 specific modules: London Theatre, Production, and either Devising (for the acting/directing/musical theatre students) or Industry Placement (for the Technical/Design students). These modules will run over a 12-week period. All modules are worth approximately 5 U.S. credits.
An overview of the semester would look similar to the chart below (dates will vary):

An example of a working week for both halves of the semester are outlined below (days/times will vary):

Not outlined on this timetable are the hours the Technical/Design students would do within the Industry Placement module.  This would be scheduled and managed by the students and tutor.  The expectation would be that students did a minimum of 14 hours a week (in line with the hours the Devising students would be doing).
In addition to the modules, students will have a weekly 1-hour group tutorial with a full-time member of the Drama staff and the option to sign up for individual tutorial time if they wish.
Additional Costs:
Additional costs for students registering for the Theatre Program modules fall into 3 categories:
Theatre Tickets:
Within the London Theatre module, students will see a production each week.  The cost for the theatre excursions vary; however, the average ticket price for shows in London when booking as a group is about £20 per person.  So, for students seeing a show every week, the cost to a student would be approximately an additional £240 for the semester.
Travel (Local):
All students will need to travel to the London productions, and Technical/Design students in the Industry Placement module will additionally need to travel approximately 3 times a week into the city.
Train travel around London varies depending on what time of the day you travel.  The easiest way to travel is with an Oyster card.  These act as contactless payment cards to which students can add money and pay as they go.  A single journey into London Waterloo is £5.70 at peak times and £3.80 off-peak.  If students use their Oyster cards for other journey's (tube, bus, train), there is a daily cap cost of £14.10.
So, an estimate for students needing to make 3 journey's a week for the Industry Placement module and then 12 theatre trips over the 12 weeks would be a total cost of £423.  Students who only make the journey into London for the 12 theatre trips would have an expense of £169.20.
K. Student Route Visa: Technical/Design students enrolled in the Industry Placement module need a U.K. Student Route Visa.  The application cost for this is £348.  Students do not need to pay the NHS surcharge as they will be in the country less than 6 months.
Summary:
Technical/Design Students
Tickets:   £ 240.00
Travel:    £ 423.00
Visa:       £ 348.00                            
TOTAL:  £1,011.00
All Other Students
Tickets:  £ 240.00
Travel:   £ 169.20
Visa:  ——
TOTAL:  £ 409.20
Campus Accommodations/Board
A variety of on-campus accommodations is offered to Study Abroad students. All rooms have internet access. To increase your chances of being allocated your first housing choice, St Mary's Twickenham encourages you to apply early in the application process. Accommodation is guaranteed if all application deadlines are met.
Applying for Accommodation
After you have been accepted to study at St Mary's Twickenham, you will receive an email from the Accommodation Office inviting you to apply for accommodation. This will be sent out within two weeks after the St Mary's Twickenham application deadline date, so please do not worry if you have not received it before then. Shortly after you apply, you will be offered a room through the Accommodation Portal. When you accept your room, you will be required to pay a deposit of £200. The deposit will be returned to you at the end of the semester once you return your key. If there are damages to your room or you do not return your key, these costs will be deducted from your deposit as outlined in your rental agreement.
Campus Accommodations
Single rooms with private bathroom: Cashin and Cronin, and De Marillac halls of residence
Single rooms with shared bathroom: 16 Strawberry Hill Road; Clive; Graham, Wiseman and Doyle; Old House; and Waldegrave Park
Shared room with shared bathroom: Waldegrave Park
Board/Meal plans
Two meals per day are included with all on campus accommodation. This comprises breakfast and dinner during the week and brunch and dinner at the weekend, all taken at the Refectory, only a few minutes walk from halls.
St Mary's caters for most dietary requirements, but if you have specific needs, please discuss them with the catering team before you arrive to ensure they can provide you with what you need.
Accessible Accommodation
St Mary's University Twickenham London does have accessible rooms; if you have any specific requirements please ensure you raise them when you apply for accommodation so they can be taken into consideration when allocating rooms. You can seek advice from their Accommodation team in advance of applying if you need additional information.
Cost/Financial Aid
The goal is to make the London study abroad experience as seamless as possible for students.  As a result, students will remain fully enrolled at SMU and pay all standard SMU tuition and fees directly to the university.  As with payment for a traditional semester, most student aid may be applied toward payment.  Costs at Saint Mary's University Twickenham associated with registration for 3-4 modules/courses (approximately 15+ U.S. credits), on-campus accommodation, board (2 meals daily), airport pickup (on specified day/time), post-arrival orientation programming, and a full social package (off-campus excursions…ex. West End show, boat tour, trips to Stonehenge, Bath and Wales). 
Fees not covered include:
* round-trip airfare to London,
*£200 accommodation deposit (refundable),
*passport and identification photos,
*cell phone, laundry and other personal expenses,
* local transportation (Oyster cards),
*costs associated with theatre program modules/courses (see Theatre Program Modules),
*U.K. Student Route Visa fee of £348 (only for students enrolled in the Theatre's Industry Placement module or any other internship module)
Financial Aid
Saint Mary's institutional aid and all federal and state aid (except for work study) is applicable. Students should research the details of non-Saint Mary's scholarships to check for applicability. Students should discuss their situation with the Financial Aid Office.
If you currently receive tuition remission at Saint Mary's, be aware that your tuition remission may not cover the full tuition cost of the London Program. Please contact the Study Abroad Office for more information regarding this situation.
Program Dates/Application Deadline
Fall Semester 2023
International Arrivals Day – September 15th
Orientation – September 18th & 19th
Teaching Begins – September 25th
Last Day of Teaching – December 15th
Moving Out Day – December 16th / 17th
Saint Mary's Application Deadline
April 3, 2023
St Mary's Twickenham Application Deadline
May 15, 2023
Flight Arrangements
Do not purchase your flight before the International Arrival Day for Twickenham has been announced. See Arrivals Process for more information regarding this. In the past, round-trip airline tickets have ranged from $600 to $1,200. Prices often vary between semesters and may exceed the range noted here. Once you have purchased a flight, please submit the itinerary to the Study Abroad Office.
Some options for searching for a flight:
Arrivals Process
International Arrival Date:  Friday, September 15th (before 1pm (UK time)
St Mary's University Twickenham provides an airport pick up day. If you would like to use the airport pick-up service, you should arrive at Heathrow Airport on the morning of International Arrivals Day. Please make sure you arrive at the airport by 1pm to take advantage of this. Please fill out the Airport pickup request form.
St Mary's staff will meet you in the seating area near the Tourist Information Desk in the Terminal 3 arrivals hall. For students arriving on International Arrivals Day (before 1pm), detailed information regarding pickup can be found here under Meeting us at Heathrow Airport.
You will need to provide the following information:
Departure date and time
Departure city/airport. If you have a connecting flight, please give the details for the flight that lands in London, rather than the flight that leaves your home city.
Airline and flight number
Destination airport and terminal
Arrival date and time
Can't Arrive on the Specified Day/Time:
If you are unable to arrive on the specified arrival day/time, details of how to get to the Twickenham campus can be found here under Making your own way to St. Mary's/Students living on-campus.  If you are making alternative arrangements to get to campus, be sure to inform Twickenham at studyabroad@stmarys.ac.uk as well as the SMU Study Abroad Office.
Onsite Orientation
Orientation is a great opportunity to make friends, settle in and start finding your way around.
It covers two main areas:
Life and culture in London and the UK
Life at St Mary's Twickenham including academics, the students' union, sport clubs.
Orientation schedule
The schedule for the week will be very busy and includes general and academic orientations, tours of the local area and a trip into London. St Mary's Twickenham will provide a detailed orientation schedule before your arrival. Please do not plan any travel during this week, including during the weekend.
During International Orientation, St Mary's Twickenham provides free walking tours of Twickenham, Kingston and Central London for you to familiarize yourself with the local area. You may participate in social events held by the Student's Union. The International Team also arranges on campus events during the semester.
Social Program
St Mary's Twickenham offers an additional optional social program through an external tour provider that has included trips to Bath, Stonehenge and Wales as well as a West End London theater production. Trips are subject to change annually. 
Country/City Facts
While the United Kingdom is slightly smaller than Oregon, England's size is about 50,363 square miles (130,357 square kilometers), or about the size of the state of New York.
England is one of three nations that make up the island of Great Britain. The other two are Scotland and Wales. The United Kingdom is composed of Great Britain and Northern Ireland. Low mountains and rugged hills to the north are set against level and rolling plains in the south and southeast. Nearly half of the land is covered with meadows or pastures, while 29 percent is used for farming.
London is the capital city of the United Kingdom. It has an estimated population of 7.5 million and a metropolitan area population of between 12 and 14 million.
Climate
The climate is temperate, but skies are overcast more than half the time. Winds often blow from the southwest. The weather in the north is wetter and slightly cooler than in the south. Although winter temperatures rarely drop below 25°F (-4°C) and summer temperatures rarely exceed 75°F (24°C), humidity levels ranging from medium to high can make it seem colder or warmer than the temperature indicates. In the United Kingdom, temperature is measured in Celsius. F=(C*1.8)+32.  Ex: 21°C = 70°F.
Time
When Central Standard Time is in effect in the United States, London is six hours ahead. Daylight Savings Time is also observed in the United Kingdom.
Currency
British currency (sterling) consists of pounds (£) and pence (p), sometimes referred to as "quid" and "p". 100p = £1. Notes are issued for £5, £10, £20, and £50 and coins for 1p, 2p, 5p, 10p, 20p, 50p, £1, and £2.
More Information
The Heights International Center, Room 104
Winona Campus
Hours: Monday–Friday 8 a.m. to 4:30 p.m.