Study Abroad / Affiliated Programs / Language Programs
Seville, Spain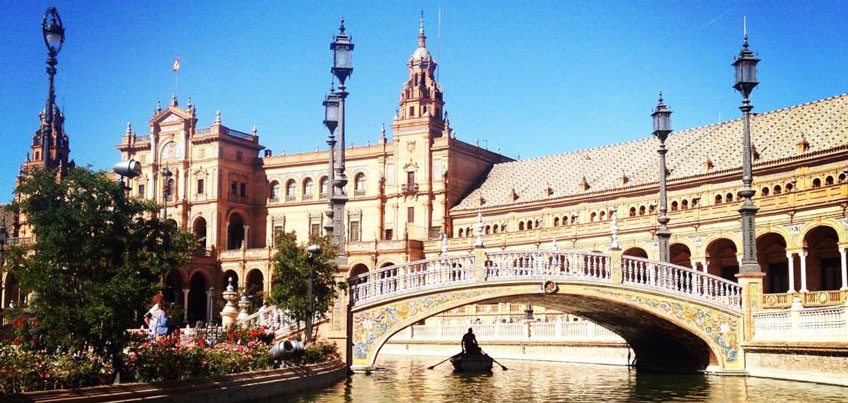 Spend a semester in Seville, Spain!
Spanish Studies Abroad has provided unique learning experiences for students in Seville since 1969.
Spanish Studies facilitates a true cross-cultural exchange by inviting students to expand their world-view through intense immersion of the culture. With a strong dedication to academic integrity and an emphasis on the personal growth of the student, they have developed a reputation for the superior quality and value of its programs. Some features of the program include:
A curriculum with a wide variety of course offerings
Native Spanish professors
All classes taught in Spanish
Average class size of 10-12 students
On-site Resident Director & staff
Internship, volunteer & community service opportunities
All-inclusive day & overnight study trips
Three-day weekends for independent travel
Structured intercambios with Spanish students learning English
Monthly fiestas at the Center for American and Spanish with students studying critical thinking & social sensitivity
CC-CS Center
The Center is housed in two turn-of-the-century mansions in the heart of Seville's commercial and social center.
The Center is a short walk from the University of Seville and some of Spain's most glorious historic sites.
Facilities include:
Four computer labs which include 40+ PC computers available for student use

Five patios, a library & study rooms

Classrooms equipped with VCRs &  televisions

Daily Internet access & personal email accounts
Courses
Spanish Studies Abroad offers an independent and dynamic course curriculum.
Our Seville program model is unique in that we have:
a long tradition of anchoring our programs in a commitment to academic excellence

academic independence to adjust curriculum to best meet students' needs

the promotion of maximum intellectual and cultural engagement

Spanish Studies Abroad teachers who are dedicated to students' academic & cultural growth
Housing
Students have two housing options: homestays or student residences that include full room and board.
A homestay gives students a unique insight into Spanish culture by allowing them to become part of a Spanish family. The same-sex student residences house mainly Spaniards. The common areas have refrigerators, microwaves, washing machines, computers with internet access and TVs for use at no extra charge.
Costs/Scholarships
Contact the Director of Study Abroad to discuss program fees and financial aid.
The Seville, Spain semester abroad is an Saint Mary's Affiliated Program. As such, all Federal and State aid (except work study) and up to $2,000 in Saint Mary's institutional aid may be applied to the program's costs.
Costs Include:
Tuition
Double occupancy room & full board
Laundry
Overnight and local study visits and cultural activities
Orientation
Health Insurance
Computer access and high-speed internet access
Spanish Studies transcript
Scholarship Information
Scholarship and Funding Information
Students should research the details of non-Saint Mary's scholarships for applicability and see the Director of Study Abroad for other scholarship and grant opportunities.
Program Dates/Application Deadlines
Admission decisions are made on a rolling basis. Spanish Studies recommends that you apply as early as possible to allow more time for pre-departure arrangements, such as applying for a student visa.
Click here for Program Dates and Application Deadlines
Application Procedures
To be eligible, you must have a 3.0 GPA in Spanish Coursework.
Apply online to the Spanish Studies Abroad. Complete the Saint Mary's required paperwork, application may be picked up in the Study Abroad Office, International Center, the Heights.
Acceptance is contingent on a thorough review of the student's application and subsequent approval from Spanish Studies.
Next Steps
After acceptance, complete the following required items.
Pay $500 non-refundable program deposit payable to Saint Mary's.
Obtain a passport. Submit a copy of the first page to the Study Abroad Office.
Arrange travel plans. Submit a copy of your flight itinerary to the Study Abroad Office.
Culture/City Information
If you are looking to study abroad in Spain, the city of Seville fully embodies the spirit of traditional southern Spanish culture, from flamenco to bullfighting to winding ancient cobblestone streets. The city is indeed the centerpiece of your study abroad experience. A beautiful and ancient city on the banks of the Guadalquivir River, Seville has a temperate climate and rich cultural life.
Seville encompasses the culture of Southern Spain. In this picturesque city, you will discover
Moorish palaces and renaissance garden

Flower-decked patios, paintings, and statues

Flamenco dancing and music

Bull fights at La Real Maestranza de Caballería

Siesta, tortillas, and the Spanish way of life
Learn more about the culture of Seville
Climate
The best times to study abroad in Seville are fall and spring. The summer can become unbearably hot, spurring the locals to head south to the coast for more temperate weather. Winter brings rain and slightly cooler temperatures, but remains mild due to Seville's southern location.
Time
When Central Standard Time is in effect in the United States, Spain is seven hours ahead.
Currency
The currency in Spain is the Euro. Euro bank notes come in the following denominations: 5, 10, 20, 50, 100, 200 and 500. Coins are in denominations of 1, 2, 5, 10, 20, 50, 1 euro and 2 euro.
For more Information:
The Heights International Center, Room 104
Winona Campus
Hours: Monday–Friday 8 a.m. to 4:30 p.m.