Study Abroad / Affiliated Programs / Language Programs
Barcelona, Spain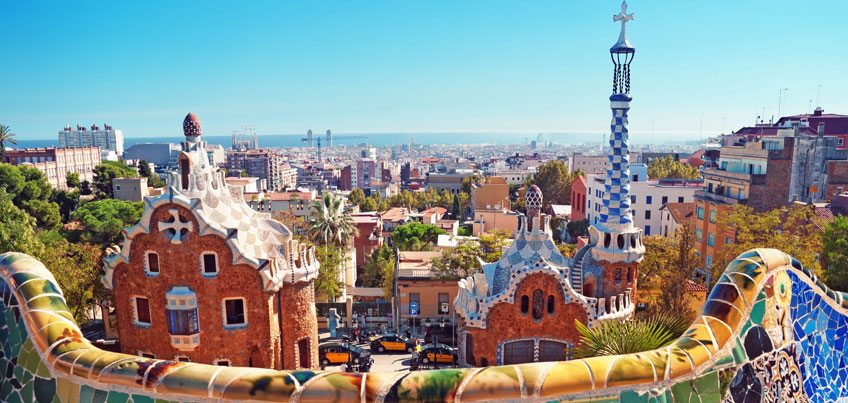 Spend a semester in Barcelona, Spain!
Spanish Studies Abroad offers an exceptional opportunity for cross-cultural study in Barcelona, Spain.
You will be enrolled in the Universitat Pompeu Fabra (UPF). Centrally located in the heart of Barcelona, UPF is a modern day university with a fantastic array of courses. As an urban study abroad student you will be immersed in both Spanish and Catalan. You will benefit from the university's central location. Some features of the program include:
U.S.–compatible curriculum

Guided direct enrollment at UPF

Guidance in synthesizing the immersion experience

Speaking Partner exchanges with local students

Modern university facilities with full access, including clubs, organization, and events
Day and overnight study trips and excursions
Homestays and Meals included
On-site Resident Director and support staff
Courses taught in English, Spanish, and Catalan by UPF staff
Visit the Spanish Studies Abroad Website
In 2010, the Universitat Pompeu Fabra was awarded the distinction of International Excellence Campus by the Spanish Ministry of Education and it is widely considered to be one of the best universities in Spain, ranking 1st in scientific productivity in Spain in 2010. Founded in 1990, it is named after the Catalan philologist Pompeu Fabra.
Courses
Spanish Studies Abroad offers a variety of courses and "tracks" in Barcelona, Spain with the Universitat Pompeu Fabra.
Our Barcelona program model is unique in that we have:
A program for all Spanish language levels
Two weeks of intensive language
Courses in English, Spanish or Catalan
Housing
Through university coursework, homestays with Catalonian families, and multiple cross-cultural opportunities, students will find Spanish Studies Abroad in Barcelona to be a highly immersive and integrated study abroad experience.
Costs/Scholarships
Contact the Director of Study Abroad to discuss program fees and financial aid.
The Barcelona, Spain semester abroad is an Saint Mary's Affiliated Program. As such, all Federal and State aid (except work study) and up to $2,000 in Saint Mary's institutional aid may be applied to the program's costs.
Costs Include:
Tuition
Double occupancy room & full board
Laundry
Overnight and local study visits and cultural activities
Orientation
Health Insurance
Computer access and high-speed internet access
Spanish Studies transcript
Support of onsite staff
Scholarship and Funding Information
Students should research the details of non-Saint Mary's scholarships for applicability and see the Director of Study Abroad for other scholarship and grant opportunities.
Program Dates/Application Deadlines
Admission decisions are made on a rolling basis. Spanish Studies recommends that you apply as early as possible to allow more time for pre-departure arrangements, such as applying for a student visa.
Click here for Program Dates and Application Deadlines
Application Procedures
To be eligible, you must have a 3.0 GPA in Spanish Coursework.
Apply online to the Spanish Studies Abroad. Complete the Saint Mary's required paperwork, application may be picked up in the Study Abroad Office, International Center, the Heights.
Acceptance is contingent on a thorough review of the student's application and subsequent approval from Spanish Studies.
Next Steps
After acceptance, complete the following required items.
Pay $500 non-refundable program deposit payable to Saint Mary's.
Obtain a passport. Submit a copy of the first page to the Study Abroad Office.
Arrange travel plans. Submit a copy of your flight itinerary to the Study Abroad Office.
Culture/City Information
As Spain's second largest city, Barcelona embodies every quality of a European city. Experience the typical hustle and bustle of a busy city on La Rambla, take a stroll through one of the many barrios or enjoy any of its famous Mediterranean beaches. The urban city is host to several UNESCO World Heritage Sites, attracting millions of tourists each year.
Just a little of what Barcelona has to offer:
Subtropical and Mediterranean climate
Cosmopolitan coastal city
World class arts and entertainment
Famous for Gaudi, Dali, Miro and Picasso
UNESCO World Heritage sights
Beautiful Beaches
Fashion Center
Learn more about the culture of Barcelona
Climate
The weather is pleasant year-round except for the rainy season in October. The winters do cool down quite a bit, especially at night. Some say that summers are unpleasantly hot, but the heat of Barcelona never compares to that of Madrid or Seville. The absolute best time to visit is spring and early summer, when the weather is perfect and the city is full of annual celebrations.
Time
When Central Standard Time is in effect in the United States, Spain is seven hours ahead.
Currency
The currency in Spain is the Euro. Euro bank notes come in the following denominations: 5, 10, 20, 50, 100, 200 and 500. Coins are in denominations of 1, 2, 5, 10, 20, 50, 1 euro and 2 euro.
For more Information:
The Heights International Center, Room 104
Winona Campus
Hours: Monday–Friday 8 a.m. to 4:30 p.m.