Study Abroad / Affiliated Programs / Language Programs
Alicante, Spain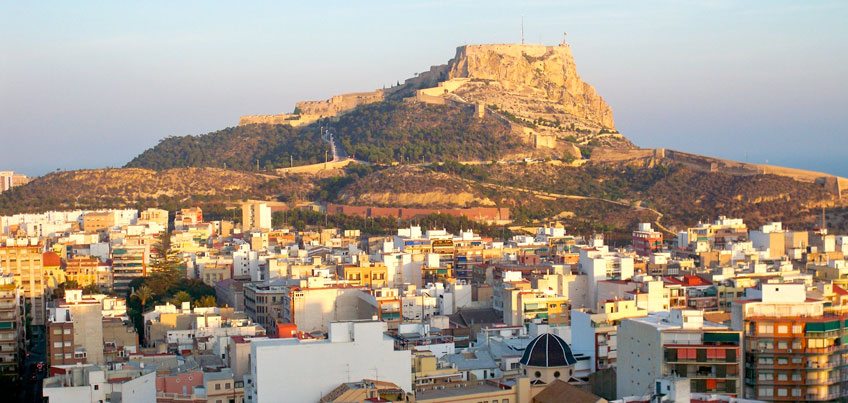 Bienvenidos a Alicante…
Spanish Studies Abroad offers an exceptional opportunity for cross-cultural study in Alicante, Spain at the Universidad de Alicante.
Spanish Studies facilitates a true cross-cultural exchange by inviting students to expand their world-view through intense immersion of the culture. With a strong dedication to academic integrity and an emphasis on the personal growth of the student, they have developed a reputation for the superior quality and value of its programs. Some features of the program include:
U.S. compatible curriculum
Native Spanish professors
All classes taught in Spanish
Average class size of 10-12 students
On-site Resident Director and staff
Internships
All-inclusive day and overnight study trips
Weekends for independent travel
Intercambios with native speakers
Visit Spanish Studies Abroad Website
Universidad de Alicante (UA) is located twenty minutes outside of the city's center. UA was founded in 1979 to carry on the traditions of the University of Orihuela (1545-1834). As the fastest growing university in Spain with an enrollment of 33,000, UA is dedicated to its mission to cultivate students' academic and professional skills, while developing critical thinking and social sensitivity.
Courses
Spanish Studies Abroad offers an exceptional opportunity for cross-cultural study at a Spanish university, Universidad de Alicante.
Designed as a language-intensive program at the intermediate to advanced Spanish levels, you will benefit from a rich language-focused curriculum, taught by professors at Universidad de Alicante (UA).
Semester/ Academic Year Program Options
Housing
Students participating in this program live in a Spanish home. The homestay includes full room and board.
Costs/Scholarships
Contact the Director of Study Abroad to discuss program fees and financial aid.
The Alicante, Spain semester abroad is an Saint Mary's Affiliated Program. As such, all Federal and State aid (except work study) and up to $2,000 in Saint Mary's institutional aid may be applied to the program's costs.
Costs Include:
Tuition
Double occupancy room and full board
Laundry
Overnight and local study visits and cultural activities
Orientation
Health Insurance
Computer access and high-speed internet access
Spanish Studies transcript
Support of onsite staff
Scholarship Information
Scholarship and Funding Information
Students should research the details of non-Saint Mary's scholarships for applicability and see the Director of Study Abroad for other scholarship and grant opportunities.
Program Dates/Application Deadlines
Admission decisions are made on a rolling basis. Spanish Studies recommends that you apply as early as possible to allow more time for pre-departure arrangements, such as applying for a student visa.
Click here for Program Dates and Application Deadlines
Application Procedures
To be eligible, you must have a 3.0 GPA in Spanish Coursework.
Apply online to Spanish Studies Abroad. Complete the Saint Mary's required paperwork, application may be picked up in the Study Abroad Office, International Center, the Heights.
Acceptance is contingent on a thorough review of the student's application and subsequent approval from Spanish Studies.
Next Steps
After acceptance, complete the following required items.
Pay $500 non-refundable program deposit payable to Saint Mary's.
Obtain a passport. Submit a copy of the first page to the Study Abroad Office.
Arrange travel plans. Submit a copy of your flight itinerary to the Study Abroad Office.
Culture/City Information
If you are looking to study abroad in Spain, you will find that the city Alicante provides a friendly and welcoming atmosphere with many opportunities to meet Spanish students and enjoy the local culture. Spanish Studies Abroad students study onsite at Universidad de Alicante, which allows students at any Spanish language level the opportunity to become integrated into Spanish student life.
Alicante, the jewel of the Costa Blanca with beaches stretched along the Mediterranean, is a harbor city that is both rich in history and pleasantly relaxed. The city's long promenades and endless white beaches have long been guarded by the Castle of Santa Barbara on top of the Benacantil Mountain.
Learn more about the culture of Alicante
Climate
Alicante to the city of Valencia is a humid region, making the weather generally less pleasant than the southern coast. However, the climate is fairly temperate year-round, with ideal conditions in fall and spring. The summer brings an influx of tourists to the coast, especially affecting a smaller town like Alicante.
Time
When Central Standard Time is in effect in the United States, Spain is seven hours ahead.
Currency
The currency in Spain is the Euro. Euro bank notes come in the following denominations: 5, 10, 20, 50, 100, 200 and 500. Coins are in denominations of 1, 2, 5, 10, 20, 50, 1 euro and 2 euro.
More Information
The Heights International Center, Room 104
Winona Campus
Hours: Monday–Friday 8 a.m. to 4:30 p.m.