Study Abroad / Saint Mary's Programs
Rome, Italy (LUCE)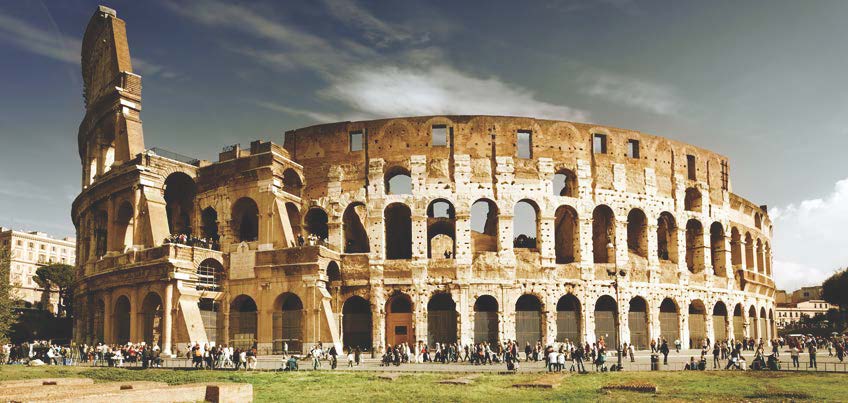 Rome, Italy
Lasallian Universities Center for Education (LUCE)
Spring Semester
Rome – the Eternal City! Through a collaboration with Lewis University this semester length program gives students from Lasallian universities the opportunity to study and live together at the Lasallian Universities Center for Education (LUCE) in the Generalate in Rome-the mother house for the Lasallian Christian Brothers. Created by the US Lasallian universities, this exciting program provides students the chance to have a deeper understanding of John Baptiste de La Salle and the Lasallian Christian Brothers while completing major, minor, and general education requirements at their home institutions. Two professors from Lewis University will lead the program, living at the Generalate with the students, teaching courses, and travelling with the students on program sponsored excursions.
Courses
You will take a full load of courses, there will be two required core courses and a one credit Italian language workshop.  In addition to the required courses, there is a variety of elective courses from which the participants can chose. Classes will be held Monday thru Thursday.
Required Core Courses (7 credits):
Italian Language  (1 credit)
Theology – Christian Faith and the Arts (3 credit)
History/Theology – Christians as the Romans Saw Them (3 credit)
Elective Non- Core Courses- (3 credits each):
Art History – Italian Art: Rome through the Centuries-From its Origins to the 17th Century
Film/History – Italy Today 
History – Tunis as a Lens for Modern History**
History – Interpreting the Modern World 
Theology – Search for Faith 
** – The Tunis as a Lens for Modern History course will be primarily taught online with a travel component to Tunisia at the end of the Rome program (April 15-20).  There will be an additional $1,000 per student charge for those registered for this course to cover the travel costs.
Excursions
Three weekend excursions outside of Rome are currently planned. The first will be a day trip out to Ostia Antica, the second will be a full weekend trip to Florence, and the third will be a full weekend trip to Assisi.
Faculty Leaders
Dennis Cremin – Academic Director
Professor, History
Lewis University
Joanna Kuttner – Resident Director
Professor – Theology
Lewis University
Program Dates 2023
Start Date of Online Course Component: January 9
Start Date of On-Site Program: January 21
Spring Break: March 3-12
End of Program: April 15
Location
The Generalate of the Brothers of the Christian Schools, where the program is based, is the mother house and administrative headquarters for the De La Salle Institute. Conveniently located less than a block from the Metro line, all of the famous sites of Rome are just a few minutes away.
Room and Board
Students will live in single person rooms at the Generalate. Each room features its own bathroom, along with a bed, desk, chair, and wardrobe. There is a shared common space for the program participants, as well as laundry facilities.
A meal plan at the Generalate dining facilities will also be provided as part of the program.  You will have meal plan, with most of your lunches and dinners provided during week and breakfast every day.
Program Cost
The program costs for the Rome – LUCE program include tuition, airport pick-up in Rome, accommodations (single person room), on-site orientation, Rome public transportation pass, program-sponsored excursions and activities, meal plan, and medical insurance.
The program cost does not include airfare, passport fees, additional meals, personal travel, supplies, personal expenses.
The cost of the program is approximately the same as tuition and room/board for a regular semester on the Winona Campus. A $500 non-refundable program deposit is required with submission of application. A student's application is incomplete and will not be considered if a deposit is not received by the program deadline.
Financial Aid
Saint Mary's institutional aid and all federal and state aid (except for work study) is applicable. Students should research the details of non-Saint Mary's scholarships to check for applicability. Given the additional costs of a semester abroad, financial aid may be adjusted accordingly. Students should discuss their situation with the Financial Aid Office.
If you currently receive tuition remission at Saint Mary's, be aware that your tuition remission does not cover the full tuition cost of this Rome Program.
Eligibility
Participants will need to have Sophomore status and a preferred GPA of 2.5. Eligibility will also be based on recommendations and record of behavior at Saint Mary's.
Application Process/Deadline
Applications available in the Study Abroad Office. Apply by November 1, 2022. A $500 non-refundable program deposit is required with submission of application.
Program Links
For More Information
Vicki McDonald, M.A.
Coordinator of Study Abroad
International Center, the Heights 103
(507) 457-6996
vmcdonal@smumn.edu
The Heights International Center, Room 104
Winona Campus
Hours: Monday–Friday 8 a.m. to 4:30 p.m.