Study Abroad / Affiliated Programs
Consortium Institute of Management and Business Analysis (CIMBA)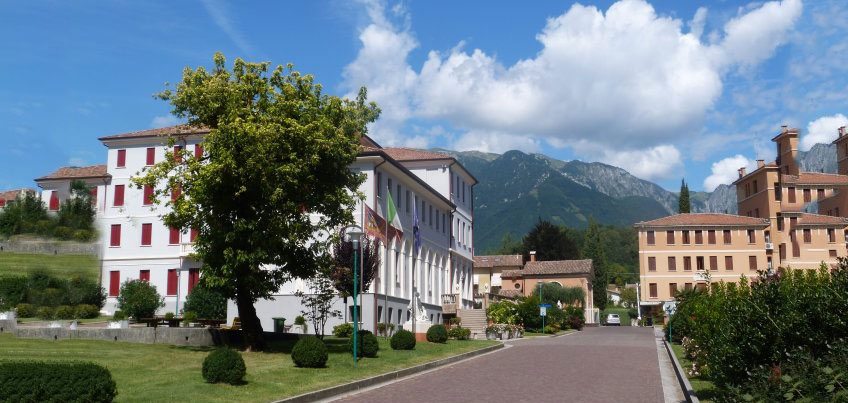 Paderno del Grappa Campus
The campus of the Filippin Institute, of the DeLasalle Christian Brothers, is located in the small Italian town of Paderno del Grappa.
The campus offers students the cultural experience of living in a small Italian community, while providing access to the celebrated art  and historical treasures of the Veneto region. The full-service facility includes classrooms, a cafeteria, residence halls, computer and language labs, and modern athletic facilities including an indoor swimming pool, a cardio and weight room, and a gymnasium.
Every semester students attend three special dinner outings with professors and staff at a formal Italian restaurant. Past student highlights have included olive picking on the Grappa Mountains, touring local wineries, and learning to toss a pizza at a local pizzeria. These – and other local events – allow students to experience traditions that make the Veneto Region unique.
Italian junior and senior high-school students also attend classes on campus. Some of these students also reside on campus. American and Italian students live in different buildings and attend different classes, but cultural interaction is encouraged through social activities such as Halloween parties, American Thanksgiving dinners and language practice groups.
Courses
This program offers rigorous, high-quality courses taught in English.
A full range of business and economics courses are offered, as well as courses in journalism and communication studies. Italian language classes are offered, and students are encouraged to enhance their language skills. Students may take up to 18 credits of coursework and are encouraged to take at least one class outside of their professional area. This program is supported by the Saint Mary's Business Department. Courses taken may fulfill major requirements. Contact the Business Department Chair for specific information.
Housing
The Filippin Institute campus offers dormitory style housing with single and double rooms available.
All rooms have a private bathroom. Three meals a day are provided while classes are in session. Meals are served cafeteria style in the Italian tradition (first course = pasta or rice; second course = meat with vegetable or salad; third course = dessert). While traveling, students are responsible for their own housing and food.
Costs/Scholarships
The cost of the program is approximately the same as tuition, room and board for a regular semester on the Winona campus. In addition to that, there is a $670 foreign study fee.
The CIMBA – Italy semester abroad is a Saint Mary's Affiliated Program. As such, all Federal and State aid (except work study) and up to $2,000 in Saint Mary's institutional aid may be applied to the program's costs.
CIMBA offers both merit- and need-based financial awards available for students attending the semester programs. Award amounts vary from year to year based on the number of applications received and funding available. Only students who have applied and been accepted to the program will be considered.
Financial Aid Application Deadline:
October 15th – Spring Semester
May 1st – Fall Semester
CIMBA Financial Aid & Scholarship page
Students should research the details of non-Saint Mary's scholarships for applicability and see the Director of Study Abroad for other scholarship and grant opportunities.
Program Dates/Application Deadlines
Summer 2022: May 23-June 17. Suggested Deadline of April 1st.
Fall 2022: September 12-December 3. Suggested Deadline of June 15th.
Spring 2023: Mid-January to mid-April. Suggested Deadline of October 15th.
Application Procedures
The name and contact information for one academic reference must be entered as part of the application. (Note: A CIMBA recommendation form or a letter of reference from an academic reference is required if your GPA is below 2.75. Email the recommendation to studyabroad@cimbaitaly.com.)

Submit an online application. Choose Create An Account on the right hand side.

A resume and essay must be uploaded as part of the online application (PDF preferred).

At the time of application, you will be asked to pay a $40 non-refundable application fee, payable to the University of Iowa. This fee must be paid by Visa, MasterCard, or Discover.

Request that an official undergraduate transcript from Saint Mary's University be sent to the University of Iowa (address below). Applicants must submit completed grades on their transcripts as follows: Summer/fall applicants need previous fall completed grades, and spring applicants need previous spring completed grades. Please note: you must submit your application to CIMBA before your transcript can be linked to your account. The University of Iowa

Office of Admissions
107 Calvin Hall
Iowa City, IA 52242
4. Visit the Study Abroad Office for an application packet from Saint Mary's.
Acceptance is contingent on a thorough review of the student's application by the Saint Mary's Director of Study Abroad and subsequent approval from CIMBA.
Next Steps
After acceptance, complete the following required items:
Pay $500 non-refundable program deposit payable to Saint Mary's.
Obtain a passport. Submit a copy of the first page of passport to the Study Abroad Office.
Attend all orientation sessions.
Obtain a student visa. Submit copy of visa stamp to Study Abroad Office.
Arrange travel plans. Once obtained, submit a copy of your flight itinerary to the Study Abroad Office.
Culture/City Information
Paderno del Grappa is a town and commune in the province of Treviso, in Veneto, Italy.
Paderno del Grappa is located at the base of Mount Grappa, a mountain located in the Dolomites. The municipality of Paderno del Grappa is approximately 45 miles north of Venice, and is close to larger towns, Asolo and Bassano del Grappa, also in the Treviso province.
The undergraduate campus is only a few miles from the campus in Asolo, at the base of Mount Grappa. The campus offers students the cultural experience of living in a small Italian community while providing access to the celebrated art and historical treasures of the Veneto region.
Climate
Winter months in Italy are generally cloudy and rainy. Cold temperatures rarely fall under 32 ° F (0 °C). January-March in Paderno del Grappa will typically be cool, damp, foggy, and rainy, ranging in temperatures from 40-50 °F (4-10 °C). Temperatures in April will be warmer, around 60-65 °F (16-18 °C). In Italy, temperature is measured in Celsius. F=(C*1.8)+32. Ex: 21 °C = 70 °F.
Time
When Central Standard Time is in effect in the United States, Italy is seven hours ahead. Daylight Savings Time is also observed in Italy.
Currency
The currency in Italy is the Euro. For the current exchange rate, click here. Euro bank notes come in the following denominations: 5, 10, 20, 50, 100, 200 and 500. Coins are in denominations of 1, 2, 5, 10, 20, 50, 1 euro and 2 euro.
More Information
The Heights International Center, Room 104
Winona Campus
Hours: Monday–Friday 8 a.m. to 4:30 p.m.