Study Abroad / Affiliated Programs / Summer Programs
San Juan, Puerto Rico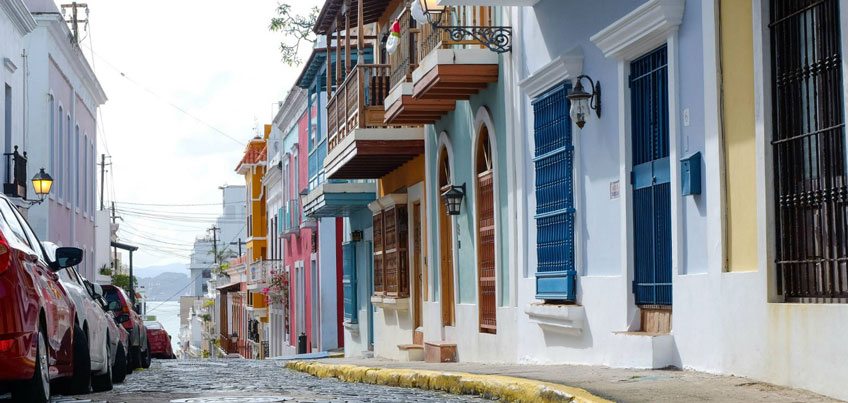 Spend a summer in San Juan, Puerto Rico!
Spanish Studies Abroad offers an excellent opportunity for cross-cultural study at the Universidad del Sagrado Corazon (USC).
The University promotes a participatory and personalized education and emphasizes the humanistic, scientific, technological, and professional formation of its students. You develop a strong language competency in Spanish, the capacity for team work and the ability to recognize, distinguish, and practice ethical values. The curriculum assures the development of critical and creative thinking skills, a multicultural perspective and the integration of theory and practice through service learning.
Visit the Spanish Studies San Juan, Puerto Rico Summer Program website.
Courses
The Summer Terms consist of four-week intensive language and/or content course sessions in June and July. In the Intensive Language Program, students take one 3-credit language course per term and have the option of taking a history course in English for an additional 3 credits. Advanced students in the Integrated Program select one or two courses from a variety of disciplines and may also choose to participate in an internship or service learning opportunity during their summer term.
The Spanish Studies Resident Director and staff guide you through this process of discovery by regular contact with Spanish Studies students and organizing exciting outdoor activities and study trips to get to know the culture and people of Puerto Rico.
Housing
Students will live on campus in single-sex dorms with Puerto Rican roommates. All dorms are double rooms, and come equipped with refrigerators, shared bathrooms and cooking facilities. Twenty-four hour security ensures the absolute safety of the students. Along with a main cafeteria and several snack bars, students will be able to take full advantage of the rich and delicious culinary culture in the town's many restaurants and eateries.
Costs/Scholarships
Since the San Juan, Puerto Rico summer abroad program does not occur during the regular academic year, Federal, State, and Saint Mary's institutional aid may not be applied to the program's costs.
San Juan's Summer Program Costs
Costs include:
Tuition
Double occupancy room
Study visits & cultural activities
Orientation
Health Insurance
Spanish Studies Abroad transcript
Support of on-site Spanish Studies staff
Scholarship Information
CC-CS has a scholarship program that is open to all participants. Award recipients are chosen based on the submission of an original essay in Spanish, an essay in English and a faculty recommendation. Students may receive awards up to $2,500.
Students should research the details of non-Saint Mary's scholarships for applicability and see the Director of Study Abroad for other scholarship and grant opportunities.
Program Dates/Application Deadlines
Admission decisions are made on a rolling basis. Spanish Studies recommends that you apply as early as possible to allow more time for pre-departure arrangements, such as applying for a student visa.
Click here for Program Dates and Application Deadlines
Application Procedures
To be eligible you must have a minimum 3.0 GPA overall or in any Spanish coursework and 1 semester of college level Spanish or the equivalent (ex. high school) for Summer Term 1, or 3 semesters of college level Spanish or the equivalent (ex. high school) for Summer Term 2.
Apply online to the Spanish Studies Abroad. Complete the Saint Mary's required paperwork, application may be picked up in the Study Abroad Office, Saint Mary's Hall, Room 103.
Acceptance is contingent on a thorough review of the student's application and subsequent approval from Spanish Studies. Admission decisions are made on a rolling basis. Spanish Studies recommends that you apply as early as possible to allow more time for pre-departure arrangements.
Next Steps
After acceptance, complete the following required items.
Obtain a passport. Submit a copy of the first page to the Study Abroad Office.
Arrange travel plans. Submit a copy of your flight itinerary to the Study Abroad Office.
Culture/City Information
As a study abroad student in Puerto Rico you will see beyond the white sand beaches and tourist attractions. Student life, coursework and local activities will quickly encourage you to become fully immersed in the language and culture of the Caribbean island lifestyle and heritage.
Known today as "La Ciudad Amurallada" (the walled city), San Juan is one of the biggest natural harbors in the Caribbean and the oldest city in United States territory. It is also the one of the largest capitals in the Caribbean, with a population of around 2.73 million people. Old San Juan holds many of the government buildings and is characterized by its seventeenth and eighteenth century colonial style which echoes its Spanish ancestry.
The Heights International Center, Room 104
Winona Campus
Hours: Monday–Friday 8 a.m. to 4:30 p.m.