Study Abroad / Affiliated Programs
Florence University of the Arts (FUA)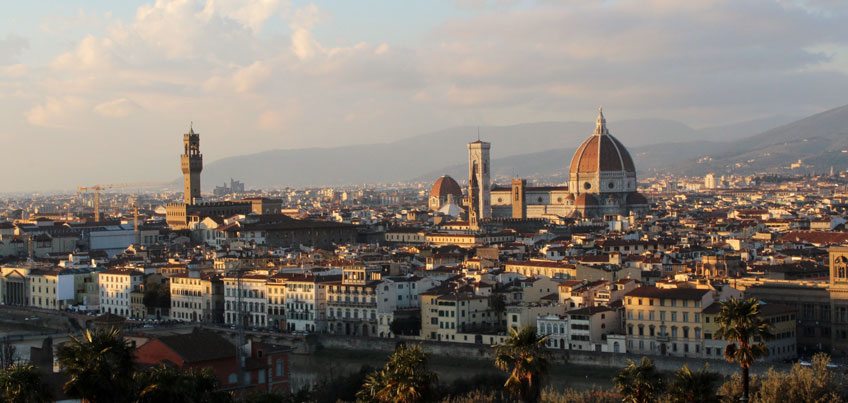 Florence, Italy
Saint Mary's University students may study abroad in the beautiful city of Florence, Italy.
Through an affiliation with SAI, students study at Florence University of the Arts during the fall or spring semester. This 16-week program, open to all majors, has an innovative curriculum that focuses on collaborative and experiential learning, as it integrates a student's social, intercultural and professional development. Students do not need to be proficient in Italian to participate.
Program fees include some daytrips to places of local interest, and some longer faculty-escorted, academic excursions are available at an additional cost.
Visit the Study Abroad Italy website
Courses
All classes are taught in English by highly qualified Florence University of the Arts (FUA) professors.
Students are required to be enrolled full time and to take a minimum of 12 credits and a maximum of 15 credits, made up of a combination of electives and Italian courses. All students enroll in Italian language courses and may choose additional elective courses, as scheduling permits, in the following areas:
The Humanities
Fine and Visual Arts
Business and Economics
Sciences and Human Services
For a sample listing of classes and course descriptions, please visit the Florence University of the Arts website.
Housing
Students live in privately owned apartments with other Study Abroad Italy (usually U.S.) students, located in buildings shared by Italian residents.
A typical residence will house two to six students with shared kitchen, bathroom and living areas. Apartments include bed linens, basic kitchen supplies and clothes washer (not dryer). Students may request single-occupancy accommodations at extra cost. Most apartments are within a 10 to 15 minute walk of the university.
Costs/Scholarships
The cost of the program is approximately the same as tuition and room charges are for a regular semester on the Winona campus. In addition to that, there is a $600 foreign study fee.
The Florence semester abroad is an Saint Mary's Affiliated Program. As such, all Federal and State aid (except Work Study) and up to $2,000 in Saint Mary's institutional aid may be applied to the program's costs.
Students may be eligible for SAI-sponsored merit & need-based scholarships as well as early application discounts.
Students should research the details of non-Saint Mary's scholarships for applicability and see the Director of Study Abroad for other scholarship and grant opportunities.
Program Dates/Deadlines
Visit the Florence University of the Arts website for program dates and application deadlines.
Course placement is verified at the time of applicants acceptance, so students are encouraged to submit their application early.
**Graduating Seniors should note that the Spring program ends after Saint Mary's commencement; accommodations will not be made for early return.
Application Procedure
To be eligible, students need to be a Sophomore, Junior or Senior and have a GPA of 2.75 or better.
Apply Online
– Print a copy of application and submit it to Study Abroad Office. One personal statement emailed to
admissions@saiprograms.com
. Tell us the reasons for your decision to study abroad, and what you hope to accomplish during your time. Essays are limited to a single page.
Submit Saint Mary's required paperwork to the Study Abroad Office.  Applications available in the International Center, the Heights.
Acceptance is contingent on a thorough review of the student's application by the Saint Mary's Director of Study Abroad and subsequent approval from SAI.
Next Steps
After acceptance, complete the following required items:
Pay $500 non-refundable program deposit payable to Saint Mary's.
Obtain a passport. Submit a copy of the first page of passport to the Study Abroad Office.
Attend all orientation sessions.
Obtain a student visa. Submit copy of visa stamp to Study Abroad Office.
Arrange travel plans. Once obtained, submit a copy of your flight itinerary to the Study Abroad Office.
Country/City Information
Florence has a population of 400,000 and is part of the region in Italy known as Tuscany, which is in Central Italy.
Bordering Tuscany are the regions of Emilia-Romagna, Marche, Umbria and Lazio. The region of Tuscany covers almost 9,000 square miles and consists of rolling hills, mountains and rugged coastlines along the Mediterranean. Florence is about 2½ hours from Rome and about 3 hours from Milan by train.
Climate
Winter months in Italy are generally cloudy and rainy. Cold temperatures rarely fall under 32 ° F (0 °C). January-March in Florence will typically be cool, damp, foggy and rainy, ranging in temperatures from 40-50 °F (4-10 °C). Temperatures in April will be warmer, around 60-65 °F (16-18 °C). In Italy, temperature is measured in Celsius. F=(C*1.8)+32. Ex. 21 °C = 70 °F.
Time
When Central Standard Time is in effect in the United States, Italy is seven hours ahead. Daylight Savings Time is also observed in Italy.
Currency
The currency in Italy is the Euro. Euro bank notes come in the following denominations: 5, 10, 20, 50, 100, 200 and 500. Coins are in denominations of 1, 2, 5, 10, 20, 50, 1 euro and 2 euro.
More Information
The Heights International Center, Room 104
Winona Campus
Hours: Monday–Friday 8 a.m. to 4:30 p.m.